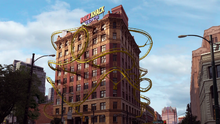 Knickknack Toys is a toy and game company owned by Jarvis Raines and whose staff consists of Jarvis' friends. It was formerly owned by Candace Wheeler, but she lost it to Jarvis due to a lawsuit. Nevertheless, Candace desperately hopes to get it back.
Notable Toys/Games
Teeny Tiny Chemistry Set
Mmmboing
Philharmonica
Pants Full of Ants
Bee In Your Bonnet
Mouse In Your Blouse
Rainbow Bunny
Cupid's Bow
Dance Crew Evolution
Angie
Snack-in-the-Box
Moosetrap
Flycycle
Flyrates
Sidekick
Presto Pack
Dr. Knickknack's Medical Bag
Pop Superstar
Gizmospinatron (really a yo-yo)
Everyball
Junior Fish Gutter
Team
Owner/CEO
Staff
Mascot
Other
Candace Wheeler (Former CEO)
Ad blocker interference detected!
Wikia is a free-to-use site that makes money from advertising. We have a modified experience for viewers using ad blockers

Wikia is not accessible if you've made further modifications. Remove the custom ad blocker rule(s) and the page will load as expected.